Bagging the Joy for the Greater Baton Rouge Food Bank
12.13.2012  |  Bagging the Joy for The Greater Baton Rouge Food Bank

Baton Rouge Coca-Cola has partnered with the Food Bank, AG, Independent Supermarkets, Clear Channel radio stations WFMF, WYNK Country, WJBO News Talk, and KRVE 96.1 THE RIVER and WAFB-TV to collect food items until the end of the year for the Greater Baton Rouge Food Bank!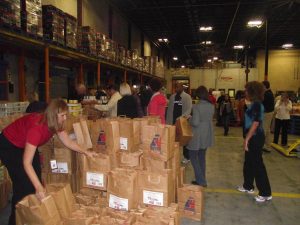 We've  scheduled 16 radio remotes at local supermarkets with the Coca-Cola Santa truck and Santa himself to push bag sales and collection of canned goods and money beginning next week through Christmas!  WAFB-TV will come aboard on December 1st to start promoting this on TV, and based on the job they've done promoting Toys for Tots in the past, I am confident they'll do the same for this initiative.

In 2 hours, 43 volunteers from Baton Rouge Coca-Cola, Capital One Bank, Entergy, 2 Food Bank regular volunteers, and 15+ Associated Grocers' employees totaled 2,000 finished bags!!!
Please visit one of the many stores participating in this endeavor to support The Greater Baton Rouge Food Bank…
Ralph's Market (Pelican Point)
Ralph's Market (Gonzales)
Delaune's Supermarket
Matherne's @ Kenilworth
Matherne's @ Bluebonnet
Ralph's Market (Jones Creek)
Oak Point Fresh Market – Central
Bet R Store
Bennedetto's
Carter's Supermarket
Carter's Neighborhood Mkt
Soprano's Supermarket
Oak Point Fresh Market – Watson
Hi Nabor – Jones Creek
Hi Nabor – Drusilla
Leblanc's – Prairieville
Leblanc's – Gonzales
Leblanc's – Walker
Leblanc's – Plattenville
Leblanc's – Plaquemine
Leblanc's – Donaldsonville
LeBlanc's