New Powerade and BodyArmor Flavors for 2021
Announcing the launch of NEW extensions to our BODYARMOR® & POWERADE® Sports Drink Portfolio, with several breakthrough innovations that significantly strengthen our BRANDS!
BODYARMOR Brands Launched January 4th
POWERADE Brands Launched January 25th
POWERADE® ZERO SUGAR
28OZ POWERADE® ZERO SUGAR WATERMELON BERRY

AND

28OZ POWERADE® ZERO SUGAR CITRUS PEACH

POWERADE® ZERO SUGAR is expanding its variety with the introduction of 2 new flavors that are unique to the category.
Each flavor will have the Power of ION4 and vitamins B3, B6, & B12 with zero calories & zero sugar
POWERADE® ULTRA
20OZ POWERADE® ULTRA ZERO SUGAR STRAWBERRY LEMONADE
POWERADE® ULTRA: Highly differentiated and scientifically enhanced functional drink that delivers superior hydration, performance and recovery
+50% More Electrolytes, +creatine, +BCAAs, Zero Sugar
BODYARMOR EDGE
20OZ BODYARMOR EDGE FLAVORS:

BERRY BLITZ

, 

POWER PUNCH

, 

ORANGE FRENZY

, 

TROPICAL CHAOS

BODYARMOR EDGE contains 100mg of Natural Caffeine AND 1000mg of Electrolytes
The right amount of caffeine helps with athletic endurance, coordination, and the ability to focus & concentrate.
Vitamin B complex (B3, B5, B6, B9, B12) helps boost metabolism and breaks down protein and carbohydrates for energy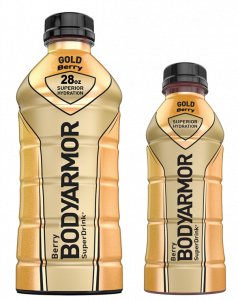 BODYARMOR GOLD
16OZ & 28OZ BODYARMOR GOLD
Premium Hydration
Coconut Water, 1450mg of Electrolytes, Antioxidants & B Vitamins
NEW BERRY + CHERRY Flavor!
BODYARMOR LYTE
16OZ BODYARMOR LYTE STRAWBERRY LEMONADE

 & 

28OZ BODYARMOR LYTE TROPICAL COCONUT

Premium, low calorie hydration, with no added sugar
Coconut Water, 1450mg of Electrolytes, Antioxidants & B Vitamins
Try some today!