Calera Main Street Unveils Restored Coca-Cola Mural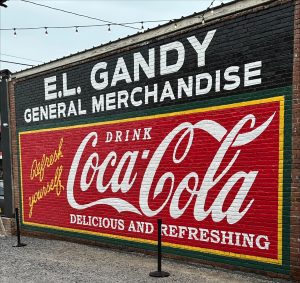 Calera Main Street, a nonprofit seeking to stimulate downtown revitalization and historic preservation in Calera, Alabama, hosted a ribbon cutting for a restored Coca-Cola mural in the city's downtown area on May 5.
Located in an alleyway off Alabama Highway 25, the mural was restored to match images dating back to the 1930s. Coca-Cola UNITED partnered with Calera Main Street in 2022 to support the restoration effort. Coca-Cola UNITED then selected Florida artists Skip Bondur and Logan Flint to restore the Calera mural. Bondur and Flint also restored a Coca-Cola mural in downtown Panama City, Florida in 2022. 
"This alley is alive now," Calera Main Street Executive Director Jackie Batson said in remarks prior to the ribbon cutting. "We can't thank our partners at Coke enough for bringing this wall to life."
In its initial heyday, the Calera mural graced the side of the E.L. Gandy General Merchandise store. Members of the Gandy family were on hand for the ribbon cutting.
Said Birmingham Coca-Cola Sales Center Manager Alan Lincoln, "We are very proud to be a part of this project. There are a ton of talented people who wake up every day to take care of our customers in our communities and we take a lot of pride in that."
Bondur added that the mural serves "to bring people back to the epicenter of the community."
"It's humbling for me to be able to put a brush on these walls and bring smiles to our communities," Bondur said.
Calera Mayor Jon Graham and members of the Calera City Council were also in attendance, as well as the Coca-Cola Polar Bear. Following the ribbon cuttting, guests raised their Coca-Cola cans high for a toast.
"This is an awesome day for us to get together and have a dedication of this mural. We thank you, Coca-Cola UNITED, for this. This would not be here without your support and your interest in our city," Graham said.