Atlanta North Metro Coca-Cola Supports MUST Giving Gala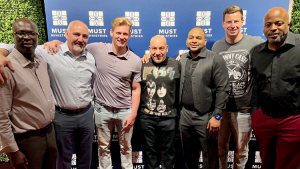 Members of the Atlanta North Metro Coca-Cola team attended the MUST Ministries Giving Gala held April 29 at the Coca-Cola Roxy. This year's theme was "Time to Rock & Roll," and guests were encouraged to dress up as their favorite rock and roll decade.
Founded in 1971, MUST addresses the basic needs of indviduals, families and children by providing food, clothing, housing and employment. Today, MUST encompasses more than 17,000 volunteers who are continually helping MUST achieve its goal of being Georgia's most respected servant-leader. The annual Giving Gala helps provide funding for MUST programs.