Chattanooga Coca-Cola & New Distribution Center
Coca-Cola Bottling Co. expands 115 years after its start in Chattanooga
July 22, 2014
The rain held off Monday morning for Chattanooga Coca-Cola Bottling Co.'s outdoor ceremony on the grounds of what was formerly Chattanooga-based photography company Olan Mills.
The site will soon be home of Coke's $62 million-dollar distribution center and regional headquarters, after Coca-Cola Bottling Company United officials decided in the spring that Chattanooga would get the expansion and absorb the Dalton, Ga., and Scottsboro, Ala. distribution regions, as The Coca-Cola Co. pulls back from distribution services.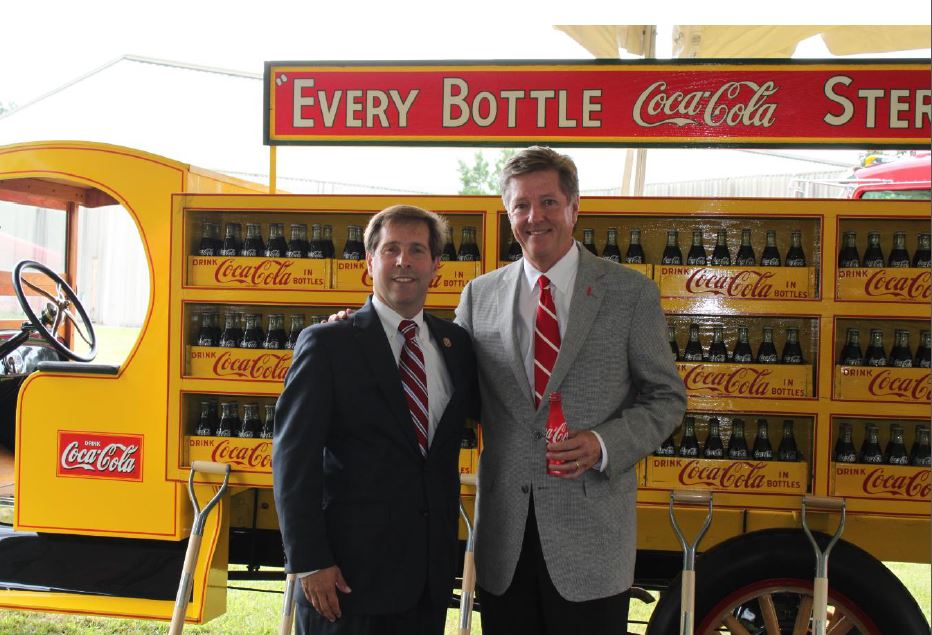 But Monday also marked a staggering milestone for Chattanooga Coke and the Coca-Cola brand's staying power. One hundred and fifteen years ago to the day, Chattanooga bottled Coca-Cola for the first time.
"This is definitely a Coke town," said Ron Harr, president of the Chattanooga Area Chamber of Commerce, during Monday's ceremony.
"This is a big deal to us," said Darren Hodges, vice president of Chattanooga Coke. "We want to thank Chattanooga for allowing us to be here 115 years."
As a token of thanks, Chattanooga Coke gave out free Coca-Colas around the city Monday, starting at the Chattanooga Metropolitan Airport between 11 a.m. and 2 p.m.
The first 115 customers to visit local Wal-Mart and Bi-Lo stores after 1:15 p.m. also received free Cokes.
Also, Hamilton Place Mall customers were given free Cokes between 2 p.m. and 7 p.m.
The gesture was meant to emphasize a point made by several Coke officials Monday that the company does not want to overlook Chattanooga or its residents in the midst of Coke's growth and celebration.
Hodges presented Chattanooga Mayor Andy Berke and Hamilton County Mayor Jim Coppinger personalized Coke cans with their first names on the label.
The cans are available to Coke drinkers everywhere through The Coca-Cola Company's "Share a Coke" campaign.
"I thought this was really pretty darn cool," said Berke of the iconic red can with "Andy' scrawled across the front in Coca-Cola's cursive, white font.
Then he bragged on Coca-Cola Bottling Company United — the Birmingham, Ala. parent company of Chattanooga Coca-Cola Bottling — and the company's willingness to take a harder road in order to stay in Chattanooga, rather than build its new facility across state lines.
"Everyone understands that financially, it was better for them to be somewhere else," Berke said.
Coppinger later emphasized the preservation of 270 local jobs which would have followed the new distribution center had it gone to another city. He said the expansion, and its 43 new positions, "are extremely important to the community."
Coke absorbed more costs by choosing the old Olan Mills site because construction of a new facility there consists of tearing down Olan Mills buildings, undergoing dirt work to alleviate frequent flooding and doing infrastructure work on Shepard Road.
Shepard community residents were at Monday's groundbreaking, and they attested to the need for infrastructure work.
Malcolm Walker, president of the Shepard Community Council, said there is a lot of foot traffic along the road that Coke's trucks will now be using, as young people and kids travel back-and-forth to the neighborhood recreation center.
"We had a little bit of concern about that," he said, " because that will mean increased traffic."
To meet the community's concerns about the road, Chattanooga Coke gave the city a $260,000 check at Monday's ceremony to pay for road and sidewalk improvements.
"Already, Coca-Cola is addressing that problem," Walker said after the groundbreaking. "So far, it's all positive. I think they're going to be a great asset to the community."
The extra costs were worth it to keep the new center in Chattanooga, said Coca-Cola Bottling Company United CEO Claude Nielsen.
"We knew it was correct to stay in Chattanooga," he said. "It's the only place that this facility should be."
Nielsen said the new distribution center and regional offices are expected to open January 2016.
Photos provided by:
Rick Hansard, Chattanooga Coca-Cola
Carrie Crane, Coca-Cola UNITED
Contact staff writer Alex Green at agreen@timesfreepress.com or 423-757-6480.
Alex Green joined the Times Free Press staff full-time in January 2014 after completing the paper's six-month, general assignment reporter internship. Alex grew up in Dayton, Tenn., which is also where he studied journalism at Bryan College. He graduated from Rhea County High School in 2008. During college, Alex covered the city of Graysville and the town of Spring City for The Herald-News. As editor-in-chief of Bryan College's student news group, Triangle, Alex reported on …